The Best Rabbit Vibrators, According to Sex-Toy Experts
Rabbit vibrators owe a lot to Sex and the City. In 1998, the rabbit was featured in an episode of the show, bringing the relatively unknown toy into the public sphere — and a lot of private bedrooms. The original was essentially a dildo with a cute vibrating bunny stuck to the side, whose ears were meant to flutter against the clitoris when the larger part of the toy was inserted into the vagina. Despite its popularity, the first rabbit vibrator had some drawbacks. "They weren't shaped properly for G-spot stimulation," says Gigi Engle, certified sex coach and the author of All the F*cking Mistakes: A Guide to Sex, Love, and Life. The straight up-and-down shape did not conform to the natural shape of a woman's vagina. Also, she says, rabbits of the '90s and early 2000s were made with low-grade materials that were hard to keep clean and harbored bacteria.
Today, rabbit vibrators are an entire category, describing anything designed to stimulate both internally and externally at the same time. The best ones are versatile and adjustable to fit a range of different body types and made of high-quality nonporous materials. And like a lot of the other vibrators we've written about, most of them are now waterproof, rechargeable, and offer multiple speeds and vibration patterns to help you find the sensations that work best for you. To determine the best rabbit vibrators on the market right now, we asked sex therapists, sex-toy shop owners, and sex-toy experts about the rabbits they recommend and use themselves.
Best overall rabbit vibrator
Engle, Megan Fleming, a sex therapist, and Sid Azmi, owner of Please pleasure shop in Brooklyn, all named the We-Vibe Nova their favorite rabbit vibrator. "It can be used with a remote-controlled app, and the external part meant to stimulate your clitoris flexes with you as you move," says Fleming. This is a real upgrade considering that rabbit vibrators used to be very rigid and didn't fit a lot of people's bodies. Engle calls the Nova the one she lives and dies by because it doesn't look anything like a penis and is perfectly curved to reach the G-spot. "As much as I hate that this is still a thing," says Engle "it can be scary for a partner to see a super phallic sex toy out of the blue. The Nova is sleek and nonthreatening, plus it lasts so long between charges and is so powerful." The Nova is waterproof, made of body-safe medical-grade silicone, and offers 10 vibration modes — 11 including the one you can create on your own using the app.
Best (less expensive) rabbit vibrator
If you're just starting out with sex toys and aren't excited at the prospect of dropping over a hundred dollars on something you aren't sure you'll enjoy, Zoe Ligon, owner of Spectrum Boutique in Detroit, recommends the Wonderlust Harmony. She calls it hands-down the best budget rabbit vibrator because it's made of silicone, offers 20 different vibration settings, and it's rechargeable.
Most powerful rabbit vibrator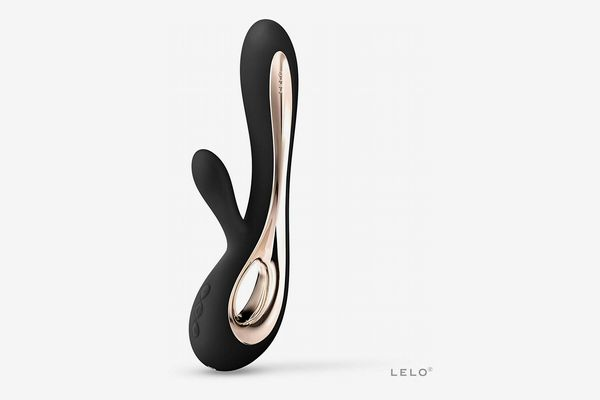 Azmi says the Lelo Soraya packs the most power and intensity of all the dual stimulation toys, making it well-worth the high price tag. The external arm of the Soraya is flexible, letting you apply as much or as little pressure as you want. "It doesn't feel like a clamshell on my vulva," she says, "and it comes with a handle." That handle, which is actually a little donut-shaped hole built into the bottom of the toy, is key. Especially if you're prone to cramping. As Azmi explains, "Sometimes when you're getting closer to orgasm your muscles tighten, and for those of us who take a longer time to cum, your arms can get tired or have some pain." But the handle avoids that by helping position your arm and wrist correctly for ergonomic support while thrusting. Engle, who is also a fan of the Soraya, appreciates its high-quality materials and flexible arm. Like the Nova, it's made using supple, body-safe silicone, is waterproof, and rechargeable. It also offers 13 different vibration patterns and has conveniently placed power and pulse buttons.
Most innovative rabbit vibrator
Quite a few of our experts are fans of the German brand Fun Factory because of its high-quality silicone (the standards for silicon in Germany are much higher than the ones in the States) and (no surprise) well-designed internal mechanisms. But it's more than that. The company also is creating new and exciting ways to deliver pleasure. Engle and Azmi recommend the Amorino because, in addition to stimulating the G-spot and the clitoris, it delivers adjustable vibrations to the labia and perineum. The Amorino comes with a silicone band that you can put around the internal and external arms in a couple of different ways. When you turn the toy on, that band carries vibrations to your labia creating a fuller, more all-encompassing sensation. "When we talk about female pleasure we mostly focus on clitoral pleasure and internal pleasure," Azmi says. "But we don't talk about labial or perineal pleasure much. It's important to diversify the parts of the anatomy that we focus on. Why stop at two when you can have it all?" The Amorino is rechargeable, flexible, and waterproof, and it offers 12 total vibration settings.
Best-looking rabbit vibrator
For many people, the look of a vibrator can be just as important as the number of vibration settings. Dalychia Saah and Rafaella Fiallo, creators of Afrosexology, an online sex-ed resource for black women and men, call the Lavani "one of the most beautiful vibrators we've ever seen." They say that the sleek and sexy design "makes you feel like a god or goddess just by using it." Just as important, it also performs well. The Lavani has a contoured internal arm and a bendable external arm with its own dedicated motor for intense clitoral stimulation. It's made of body-safe silicone and is rechargeable, and it comes with a two-year warranty.
Best thrusting rabbit vibrator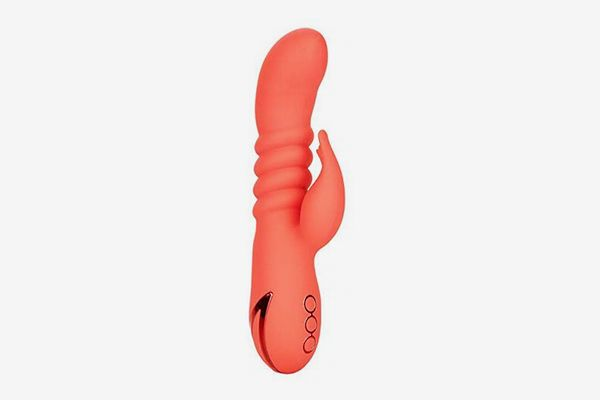 For people who enjoy the stimulation of thrusting in addition to vibration, Ligon recommends the Orange County Cutie from Calexotics. It's great if you want to give your arm a break, because unlike other rabbit vibrators it thrusts on its own. "The shape and strength of it are perfect for hitting my deeper sweet spots (like the anterior fornix) as well as my clit," she says.
Best rabbit vibrator with optional vibration
Not everyone agrees that more power equals more pleasure. Fleming introduced us to this rabbit vibrator, which she loves because you can use it with or without vibration. "As someone who is on the sensitive side, I like that the Ina Wave gives you the option to take the vibe off and just use the internal come hither motion on its own," she says. The Ina Wave is rechargeable, waterproof, and made of body-safe silicone. It also has a flexible arm, which avoids the feeling of having something clamping down on your clitoris.
Best rabbit vibrator for anal play
The Vicky, which Azmi likes for its versatility, is a reversible silicone toy, making it ideal for couples' play and people with changing bodies. It's designed for safe use as an anal toy and depending on how you insert it can be used as an anal plug with an external arm that stimulates the perineum or a vaginal toy that also stimulates the clitoris.
Best lube to pair with your rabbit vibrator
According to Engle, whenever you use a vibrator you should also be using lube. "Your vulva and your clitoris are some of the most sensitive parts of your entire body, so using lube provides a protective barrier between toy and vagina, which is really important," she says. We've written about lube in the past, but it's worth mentioning that if you're using sex toys and vibrators made with silicone, you shouldn't be using silicone-based lube. Silicone lube will degrade silicone toys pretty quickly so use a water-based lube instead. Engle's go-to water-based lube, Pjur, is paraben-free, petrochemical free, and, according to her, never gets tacky— a common problem with other water-based lubes.