We-Vibe is a German-based company that develops amazingly high-quality toys in ergonomic designs made from body-safe materials. All their toys come with a two-year warranty. 
Launched at a 10 year anniversary of their best seller Tango bullet vibrator, Tango X is all that jazz. This is the most impressive bullet vibrator we have ever tried.
Although we hadn't tried it's previous edition, Tango X quickly won us over with its powerful and rumbly vibrations packed in such a small device. It's tiny body can barely handle the strength of the vibrations (see the video on our IG), in the best way imaginable, holding it against our clit feels like it is pulsating, which our clits respond extremely well to. Bullet vibrators are normally the cheapest vibrators and rarely have the rumbly sophistication comparable to Tango X. This is a luxury vibrator, which clearly distinguishes itself from other bullet vibrators on the market.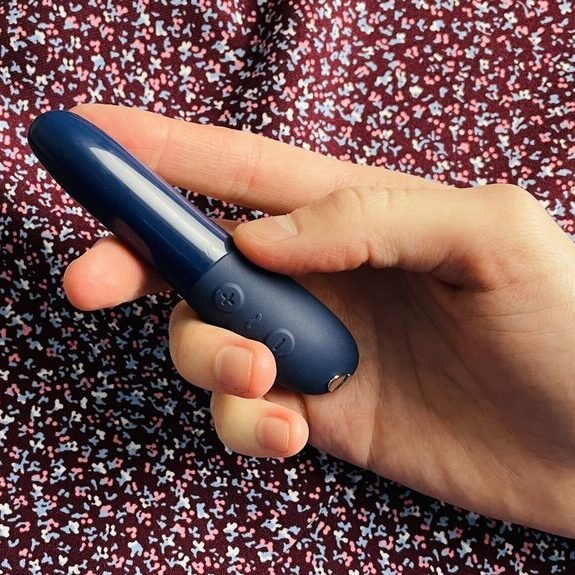 This toy measures 9,9 cm (3,9'') in length and 2,4 cm (1'') in width and weighs merely 39 grams (1,4 ounces). Tango X is a little larger than the usual bullet vibrators and won't fit everywhere a typical bullet fits, such as inside double dildos, or strapless strap-ons. It is meant to be held in one's hand, which is supported by it's dual material design, combining incredibly smooth ABS plastic and silicone grip. The silicone part also has easy to press buttons. It comes with 8 vibrations intensity and 7 modes, it is fully waterproof and therefore easy to clean. Tango X is rechargeable with up to impressive 120 minutes of play on a single charge. 
Besides the rumbly vibrations, it has a lock switch, which ensures Tango X won't switch itself on accidentally. Aligned with its size,  it is designed to be discreet and is whisper quiet. To be expected for a luxury toy of this price, it comes with a lovely soft white satin pouch. And We-Vibe thoughtfully included a sample size bag of their lube.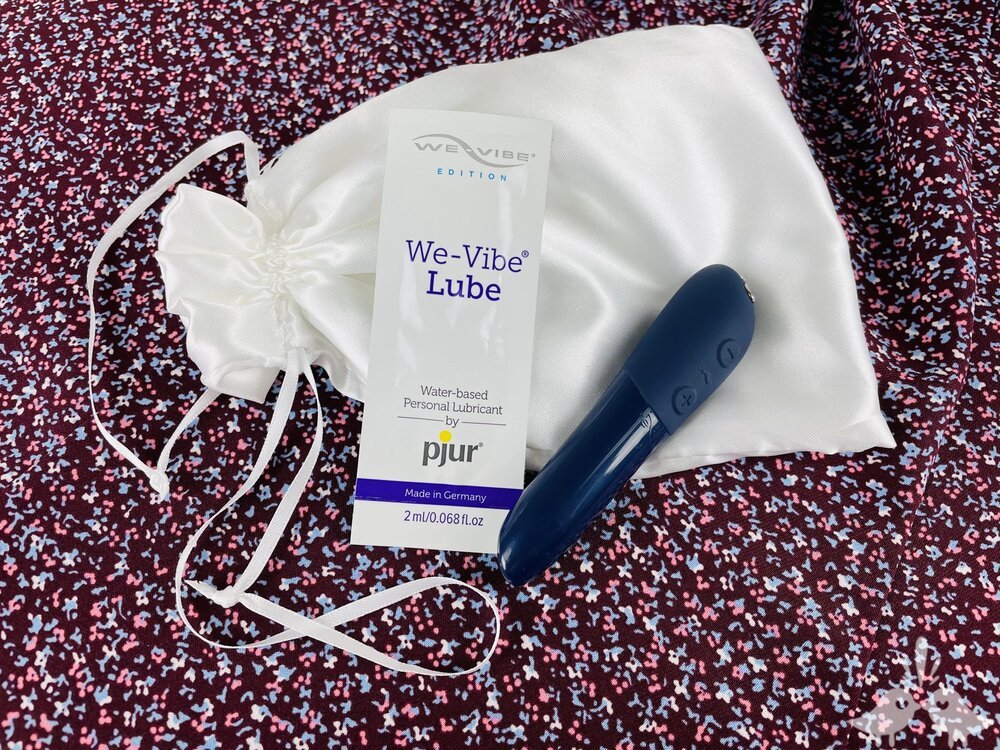 The vibrations are delivered to our clits in a very concentrated and pointed manner, through Tango's edged tip. The focused pleasuring combined with such deep vibes delights us with a super intense orgasm, borderline squirting, but still controllable and endured into multiples; just writing this brings massive smiles to our horny faces. 
The size is delightfully convenient, making the toy easy to hide if needed and take it anywhere. It will fit in any pocket. It is also easy to use it in any position either in solo or partnered sex. You can choose between two gorgeous colours: Midnight Blue or Cherry Red.
Thank you so much We-Vibe for sending us this toy in exchange for an honest review.